Get a Car Loan in Ferndale - Even with Bad or No Credit!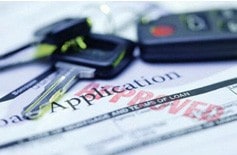 Here at Suburban Ford of Ferndale, we do our best to provide you with the best automotive option for your driving needs. However, how do you pay for those vehicles if you have poor credit, or no credit at all?
That is where our financing team comes in. Friendly and professional, they will walk you through the entire process, ensuring you understand your options, and answering any questions you may have.
We don't want something as superfluous as your credit score to get in between you and your dream vehicle. That is why we are here to help you attain that car, truck, or SUV you have been eyeing, and saving up for.
Moreover, plenty of customers are in a similar situation! Younger people, just out of college, generally do not have a credit score when they graduate -- or if they do, it has not been built up. A multitude of drivers have not been able to build up their credit for a variety of reasons.
That is where we come in: we will help you get financing regardless of your credit situation, guaranteed. We know how vital having a vehicle in the modern world is, and we want to help you get you a car loan.

Have a question? Use the form below to contact us.
Are you ready? Fill out this application instead.
Finance Your Dream Ford Vehicle in Ferndale
There are a few key steps in the car buying process. Firstly, you have to research various models to discover which one may be the best option. When you decide on a model, you can take it out on a test drive. Then, if you are happy with it, you will meet with our financing team.
Financing is an immensely important step in the process. Not only will you be deciding between taking out an auto loan, or signing a lease, you will also be crunching numbers and discussing financial matters.
That is why our expert financing team is here to help you by offering advice, and providing excellent information.
Leasing and Financing: What's the Difference?
The difference between these two modes of financing lies in ownership.
When you finance a vehicle, you usually have to take out an auto loan to cover the initial cost of the vehicle. You will then pay the loan down until it is entirely paid down. With financing, you will own the vehicle.
Leasing is like renting an apartment: you will pay monthly installments for a pre-determined amount of time. You will not own the vehicle, but you also will not have to worry about taking out an auto loan. Additionally, sometimes you can get a more affordable monthly payment with leasing.
Regardless of which option you choose, our team is more than happy to walk through the process with you to make it as simple as possible. They also can answer any questions you may have, explain details in depth, and offer financial advice if you would like it.
Stop By Today to Finance the Perfect Vehicle!
If you would like to find out more information about our excellent selection of vehicles, we invite you to visit us at Suburban Ford of Ferndale. Our team, located in Ferndale, MI, would be more than happy to help you with any of your automotive needs.